Winter activities
Well, if you're looking for cozy comfort with sparkling snow covered vistas, we've got you covered. You can snowshoe, visit maple farms and enjoy a sleigh ride locally!
32 acres of green space and pristine coastlines to wander
Indoor Pool
Walking Trail
Fat Bike Rentals
Rum Runner's Trail
Bonfires
Live Weekend Entertainment at Three Sheets Bar + Social
Hot Tub (currently closed due to COVID-19)
Take in a sunrise or sunset walk on the breakwater
Fitness Centre
Oak and Oar restaurant
Build a snow pirate!
Lobster Crawl – February to May is lobster season on Nova Scotia's South Shore. In February the entire South Shore hosts lobster infused events which include nearly 20 of the tastiest lobster rolls with the freshest lobster and concerts!
SEA and do
We work hard to ensure all our guests leave Oak Island Resort & Conference Centre with memories to spare, all year long. There are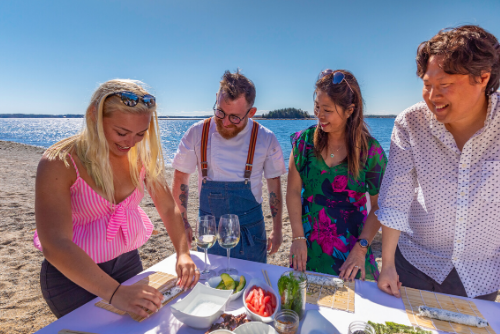 amazing adventures to be had nearby; but, the truth is, we've made it pretty easy to turn your visit into a staycation, SEAstyle.
32 acres of green space and pristine coastlines to wander
Kayaking
Stand Up Paddle Board (SUP)
Boat Tours of the legendary Oak Island, site of the world's longest – and most illustrious – treasure hunt
Indoor Pool
Outdoor Pool
Tennis Court
Mini-golf
Multi-Sport Pad
Soccer
Badminton
Croquet
Bocce ball
Washer toss
Shuffleboard
Walking Trail
Bike Rentals
Fat Bike Rentals
Rum Runner's Trail
Bonfires
Live Weekend Entertainment at Three Sheets Bar + Social
Hot Tub (currently closed due to COVID-19)
Volleyball
Take in a sunrise or sunset walk on the breakwater
Sea the Shore Tours
See the Sea Island Excursions
Fitness Centre
Oak and Oar restaurant
On-site coin operated laundry located at the Marina
GET TICKETS FOR BOAT TOURS AROUND OAK ISLAND