The CAT High Speed Ferry
Adventure is only 3.5 hours away. When a journey from Maine to Nova Scotia calls, the open ocean answers. The CAT isn't only the fastest way to travel between Bar Harbor and Yarmouth. It's also a wonderful sightseeing opportunity and ocean adventure.
The high-speed CAT ferry travels between Bar Harbor, Maine and Yarmouth, Nova Scotia in just 3.5 hours. RVs, pickups, SUVs, cars, tour buses, motorcycles, and bicycles are welcome aboard The CAT—as well as walk on passengers and four-legged friends.
Jumpstart your maritime vacation by taking your hands off the wheel and your foot off the pedal. Sit back and enjoy fabulous onboard amenities and entertainment. With awe-inspiring coastal views on both sides, it's a fantastic way to see the natural beauty of Maine, Nova Scotia, and the Atlantic Ocean.
For more information please visit www.ferries.ca.
MV Fundy Rose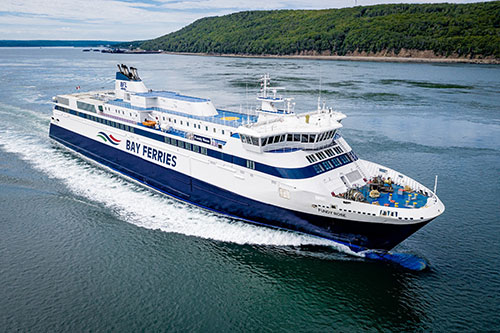 Take an unforgettable journey across the Bay of Fundy in comfort & style!
Welcome aboard MV Fundy Rose, with daily crossings between Digby, Nova Scotia and Saint John, New Brunswick. All types of vehicles including cars, RVs, trucks, tour buses, and motorcycles, are welcome aboard—as well as walk-on passengers and four-legged friends.
For more information please visit www.ferries.ca/nb-ns-ferry/overview/